A few weeks before the release of the study "Availability of Polish airports 2015", we would like to present the analysis of road accessibility of airports beyond our western border. Germany has more airports than Poland, and thus more passengers.
In 2014, more than 200 million passengers flew from German airports, which is almost ten times more than in our country. The main "culprits" are hub ports in Frankfurt and Munich, with nearly 100 million passengers having passed through them.
The first map shows the road accessibility of 25 major German airports. The colours show journey time of up to two hours, which is regarded as the catchment area of airports. This is the time affordable by most of the passengers travelling by plane. As you can see, the vast majority of the German territory is covered by the area of up to two hours' journey by road.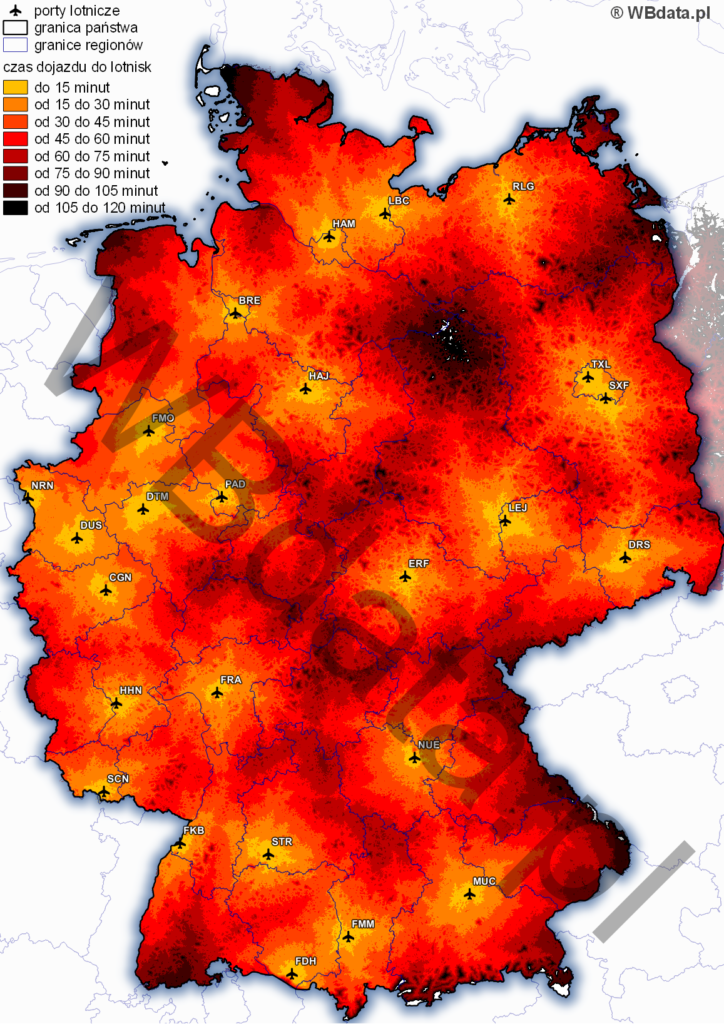 Based on the road accessibility, 25 airports with the best travel time have been designated, the so-called closest points. These are the areas which provide the fastest access to a given airport.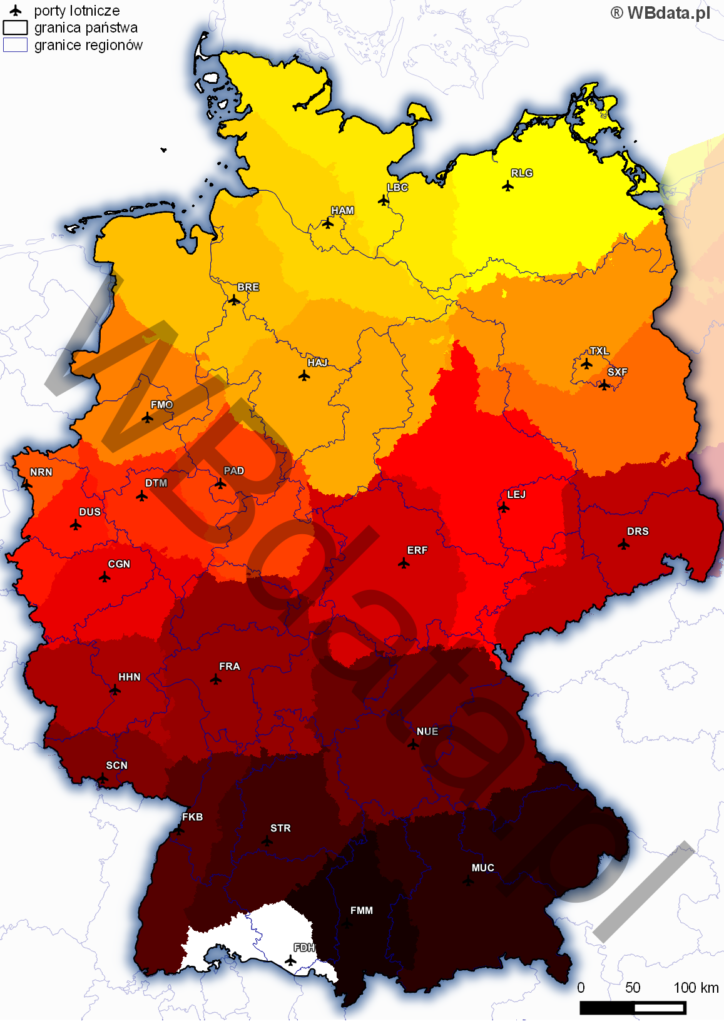 Having designated the areas with a given transport accessibility, you can calculate the number of people living there who may constitute a large percentage of potential passengers. Hub ports, of course, are used for transfer only by large proportion of passengers, who are not living in the vicinity.
For example, for each of the airports the number of people living in the zone within 20 minutes' journey by car was specified. Berlin-Tegel Airport was ranked first, with 3.4 million people living in its area, Düsseldorf Airport came as second, with almost 3.3 million people. Berlin-Schönefeld Airport has taken third position, with more than 2.8 million local residents. It should be noted here that due to the proximity of Berlin airports, there are areas of cannibalisation. Those are the areas where the catchment areas of airports overlap and the residents of these territories are located at equal distance to both airports. The smallest population lives in the area of Frankfurt-Hahn airport – a little more than 100,000.
When comparing 20-minute zones of Polish and German airports, a definite predominance of the latter can be seen. In Poland, only the airport in Warsaw has over 1 million people in the immediate area. In Germany, there are nine airport of this type, and four have over 2 million people living in the vicinity.
The analysis has been prepared without taking into account the transport congestion. This is just an example of analyses that can be described in detail and calculated in many variants. Also, the number of people in different time ranges can be calculated. Visualisation may be carried out on a small or large scale, as needed.